April 08, Kathmandu-
There has been a surge on social networks of hate speech and misleading facebook posts recently. And if one follows through the origin of such posts, a couple facebook pages stand out.
A case in point: on April 5 Monday, the afternoon was heated by the shares and comments on alleged public announcement/circular by two of the nations oldest and major Christina organizations, and another organization of the Masto religion adhering Chhetri community.
The photoshopped press release says that since it would be very tough to convert the Hindus if they remain united, it is necessary to divide them into Arya Brhmins and Khas Chhetris, and United Mission to Nepal has been a pafrtner in this mission, etc.
The fake release purporting to be circulated by NCFN  and NCS seems to be created by some Hindu extremist element, cleverly using the stamp and signature impressions of the two organizations. 'This is a wicked, nefarious intention and practice' commented the leaders when approached about this issue today.
The two organizations have already notified the police and will approach the Ministry of Home Affairs too. Meanwhile, the suspect- Ram Chandra Arya on whose facebook wall the fake release was see first, has deleted the post, and some others of his connections are using the language of innocence about this circular.
In an interview with an online TV, The Secretary of Bishwa Masta Dharma Mahasangh (Federation of World Masto Religion) Tek Bahadur Thapa also criticized the extremist elements for trying to create misunderstanding by photoshopping and falsifying the press releases of the Christian organizations, and warned that it was the plot of the internally and morally shaken elitist traditional forces.
Tek B. Thapa interview here: https://www.facebook.com/watch/live/?v=268893514780807&ref=watch_permalink
Fact Check by Shilapatra: https://shilapatra.com/detail/54938?fbclid=IwAR2fkYEmb0NfZKpeHseoWyYRfMIyQlhTc8VTs6GObLnok6an7SVrMXkb0nI
Former Deputy PM and Chair person of the pro-Hindu monarchy party RPP Kamla Thapa also instantly took to twitter in condemning the Christian community, citing the constitutional provision on anti-conversion and communal harmony laws.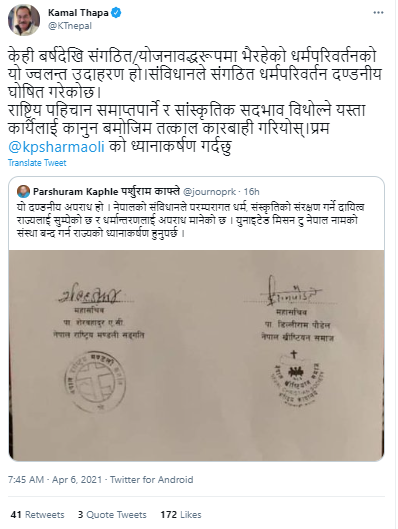 Many joined him in propagating the false narrative, but finally the ultimate shock came when the police refused to even accept the complaint papers lodged by the two Christian organizations!
Ram Krishna Upadhyay was the second person to circulate this issue, his facebook post link here: https://www.facebook.com/upadhyaya.ramkrishna/posts/4028497090506486
But it was Ram Chandra Aarya, an extremist by way of his facebook posts trying to incite hate and violence against the minorities, who first shared this edited release, here
He seems to have deleted the first post, but the scribe has taken screen shots of his post:
Meanwhile, Janajagaran Party Nepal- one which claims to stand up for civic liberties and rule of law, did a live facebook livestream with concerned parties about this issue and, and urged the administration to look seriously into the cyber crime and prosecute the criminals.
The Messenger live discussion here: https://www.facebook.com/khanaljee/videos/10158151771360949
JPN facebook live stream info was here: https://www.facebook.com/jpnofficialpage/photos/a.665885686839565/4031390130289087/