February 6-
The US has shot down a giant Chinese balloon that it says has been spying on key military sites across America.
The Department of Defence confirmed its fighter jets brought down the balloon over US territorial waters.
China's foreign ministry later expressed "strong dissatisfaction and protest against the US's use of force to attack civilian unmanned aircraft".
Footage on US TV networks showed the balloon falling to the sea after a small explosion.
An F-22 jet fighter engaged the high-altitude balloon with one missile – an AIM-9X Sidewinder – and it went down about six nautical miles off the US coast at 14:39 EST (19:39 GMT), a defence official told reporters.
Defence officials told US media the debris landed in 47ft (14m) of water – shallower than they had expected – near Myrtle Beach, South Carolina.
The military is now trying to recover debris which is spread over seven miles (11km). Two naval ships, including one with a heavy crane for recovery, are in the area.
In a Pentagon statement a senior US defence official said that "while we took all necessary steps to protect against the PRC [China] surveillance balloon's collection of sensitive information, the surveillance balloon's overflight of US territory was of intelligence value to us.
"We were able to study and scrutinise the balloon and its equipment, which has been valuable," the official added.
US President Joe Biden had been under pressure to shoot it down since defence officials first announced they were tracking it on Thursday.
Afterwards, Mr Biden said: "They successfully took it down, and I want to compliment our aviators who did it."
In a statement a few hours later, the Chinese foreign ministry said: "The Chinese side has repeatedly informed the US side after verification that the airship is for civilian use and entered the US due to force majeure – it was completely an accident."
The discovery of the balloon set off a diplomatic crisis, with US Secretary of State Antony Blinken immediately calling off this weekend's trip to China over the "irresponsible act".
The Chinese authorities have denied it is a spying aircraft, and instead said it was a weather ship blown astray.
Reacting to the incident, Taiwan's foreign ministry said in a statement: "The Chinese Communist Party government's actions that violate international law and violate the airspace and sovereignty of other countries should not be tolerated in a civilised international community."
China considers self-ruled Taiwan a breakaway province that will eventually be under Beijing's control. President Xi Jinping has not ruled out the possible use of force to achieve this.
But Taiwan sees itself as independent, with its own constitution and democratically-elected leaders.
President Biden first approved the plan to down the balloon on Wednesday, but the Pentagon said it had decided to wait until the object was over water so as not to put people on the ground at undue risk.
Groundwork for the operation was laid when the US Federal Aviation Administration (FAA) briefly paused all civilian flights at three airports around the South Carolina coast on Saturday afternoon because of a "national security effort".
The coast guard also advised mariners to leave the area due to military operations "that present a significant hazard".
An eyewitness on the coast, Hayley Walsh, told BBC News she saw three fighter jets circling before the missile was fired, then "we heard a huge boom, the house shook".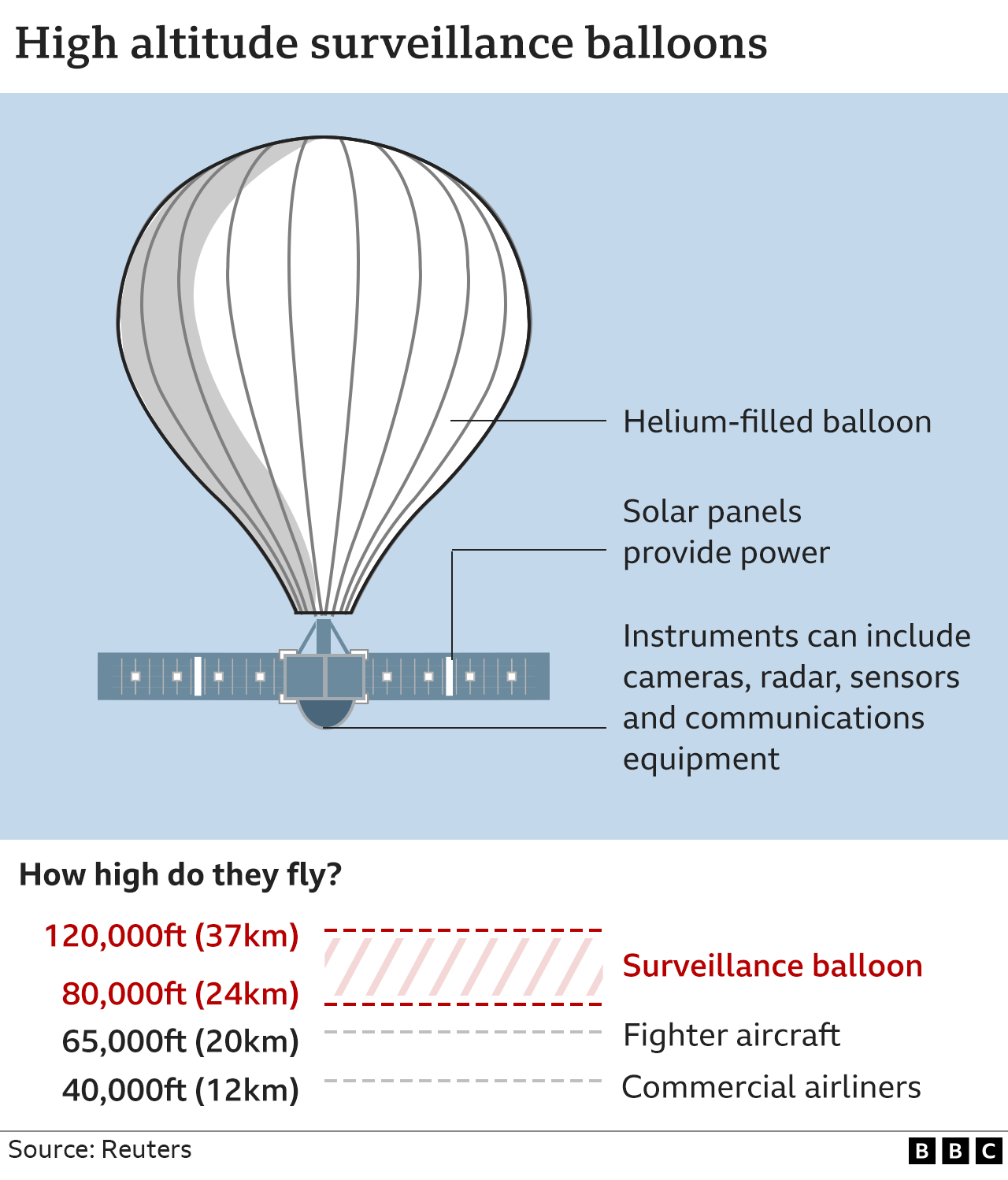 Courtesy: https://www.bbc.com/news/world-us-canada-64524105
Video: https://www.youtube.com/watch?v=gqfU2iri8Yw