November 3-
By Andreas Illmer
BBC News
Donald Trump is not a US president who has courted international support.
Pursung an openly nationalist "America First" policy, he has overtly insulted half the world – from calling Europe's leaders weak to describing Mexicans as rapists, and even dismissing the entire African continent.
But for some in south-east Asia, a shared enemy in China means they are willing to still throw their support behind him.
Hong Kong: 'Only Trump can hit the Communist Party'
Hong Kong has seen a severe clampdown by Beijing in the wake of massive pro-democracy and anti-China protests. A new security law has been brought in to punish anyone seen as secessionist or undermining Beijing's rule.
"When Donald Trump got elected four years ago, I thought the US had gone crazy," Erica Yuen tells the BBC. "I'd always been a supporter of the Democrats. Now though, I support Trump – along with a lot of the Hong Kong protesters."
The activist and businesswoman says that the priority for Hong Kong is to get a US president who will "hit the Chinese Communist Party (CCP) hard – that's the only thing that Hong Kong protesters hope for".
These hopes have been fuelled by the US president's vocal criticisms of China, particularly with regard to Hong Kong.
Under his tenure, Congress has passed a law revoking Hong Kong's special status, which gave the country preferential economic treatment because they said Hong Kong was no longer "autonomous". Sanctions were also imposed on Hong Kong chief executive Carrie Lam and 10 other top officials from Hong Kong and mainland China.
Mr Trump's opponent Joe Biden has also vowed to "punish" China for its actions against Hong Kong, and has famously referred to China's leader Xi Jinping as a "thug".
But for Ms Yuen, what makes the difference is that the current administration has been "the first to make up its mind that the CCP is a harm to the world".
"I don't know why the Obama and Clinton administrations didn't realise that. They were too naïve and thought the CCP would chose a democratic path and become a modern society. But that was proven to be not true."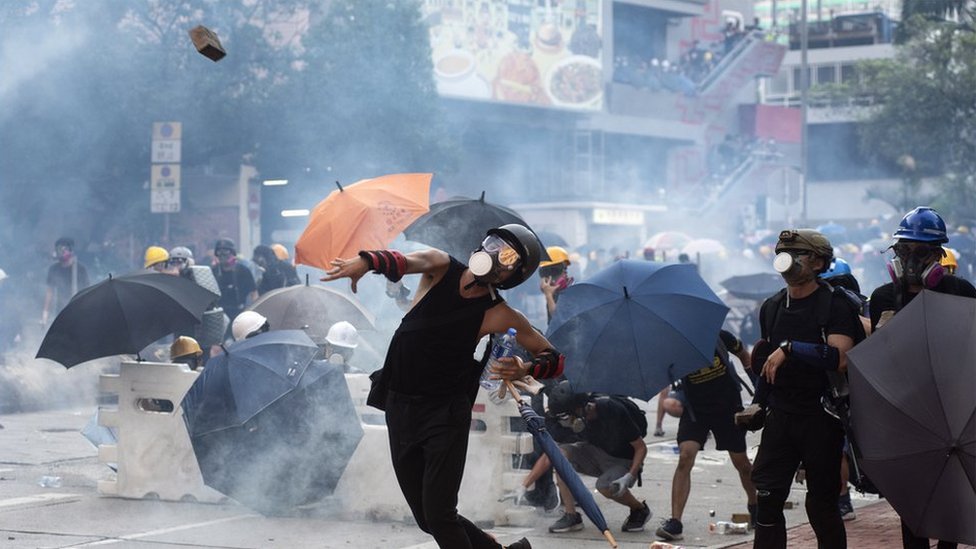 She is aware that Hong Kong is vulnerable to any economic repercussions of a conflict between Washington and Beijing.
"You can't harm the CCP without harming Hong Kong," she says. "But we are ready for any short-term suffering, we are willing to sacrifice."
While she says a majority of activists – particularly young ones – share her views, opinion polls show that overall, Mr Trump gets quite mixed reviews in the country. In a recent survey, almost half of those polled gave him a "poor" rating, with many saying that Washington's handling of the coronavirus pandemic had impacted his reputation.
Taiwan: 'A big brother we can rely on'
Tensions have been on the rise between China and the island of Taiwan. The two were divided during a civil war in the 1940s, but Beijng insists the island will be reclaimed at some point, by force if necessary. Washington says any resolution of their long separation must be done peacefully.
The trade tariffs and sanctions have also impressed some in Taiwan.
"Donald Trump's attitude is good for us and it's good to have such an ally. It gives us more confidence in terms of foreign affairs – militarily and trade," Victor Lin, who works in e-commerce, told the BBC from Taiwan. "We have a big brother we can rely on."
Mr Trump has certainly extended his outreach toward Taiwan. Over the past few months, the two governments have made major steps towards finalizing a bilateral trade deal.
Such a trade deal with the US would allow Taiwan to move away from its heavy reliance on China, believes Mr Linh – possibly going as far as to "actively invite Taiwan's big companies to set up factories in the US".
He worries that Mr Biden may not take steps that are "this provocative" in the face of Beijing's wrath. Mr Biden has traditionally been known as a supporter of engaging with China. Although he has changed his stance on this more recently, it has not reached the ears of the many Taiwanese who fear a Chinese "invasion" may be imminent.
Mr Trump's actions to support Taiwan militarily have also bolstered support for him there. In fact, a recent poll showed that Taiwan is the only country where those that want another four years of Mr Trump strongly outnumber those who want Mr Biden to win.
Beijing has reacted strongly, warning the US "not to send any wrong signals to 'Taiwan independence' elements to avoid severe damage to China-US relations".
Vietnam: 'Brave to the point of recklessness'
Both Washington and Beijing have fought wars on Vietnamese soil in the last 50 years, but while the US has largely been forgiven, the south-east Asian country remains fearful of the "China threat".
Vietnam's Trump supporters fall into two groups, according to journalist and vlogger Linh Nguyen.
Those who like him simply for the entertainment and glamour, and those who are "die hard Trump-supporters" and follow US politics because they believe – like many in Hong Kong and Taiwan – he is the only bulwark against the Communist governments both in China and Vietnam.
Neither Mr Trump or Mr Biden have spelled out a Vietnam strategy, and Mr Trump has made it very clear that he will not rush to intervene in the conflicts and disputes of other countries.
Yet some like political activist Nguyen Vinh Huu believe that only someone like Trump "who is brave to the point of recklessness and even aggression" can actually make a difference.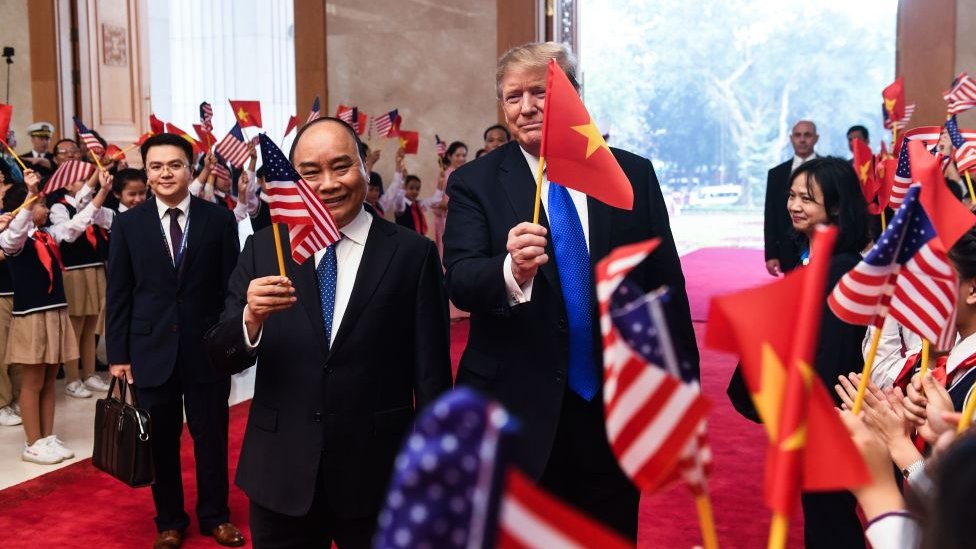 "And that's what sets him apart from his predecessors. Dealing with China requires such people."
When Donald Trump came to power, Mr Vinh said he felt the world would finally "wake up to the dangers of China" and "its new form of communist state capitalism".
But then there's also the desire for economic and political reform within Vietnam, away from communist one-party rule.
Personally, he hopes a strong US stance against the CCP might have a ripple effect across the entire region – eventually reaching Hanoi.
Japan: 'It's about our national security'
Japan has long been considered a valuable partner and ally to the US, but when Mr Trump was elected many people were nervous about the impact of his America-first policy on relations. He axed a multilateral trans-Pacific trade deal soon after taking office and insists Japan must pay more money to support US troops stationed there.
"Donald Trump is our ally. For Japan, the biggest reason we support him is national security," says Yoko Ishii, a YouTuber who vlogs under the name Random Yoko.
She points to the frequent intrusions of Chinese military planes and ships into Japanese airspace and waters. Much of these centre around the disputed Senkaku Islands, claimed both by Tokyo and Beijing – which calls them the Diaoyu Islands.
"We really want a leader from the US that can fight China aggressively," she says, adding "I don't think anybody can be that outspoken and have such strong presence – it really has to be Donald Trump".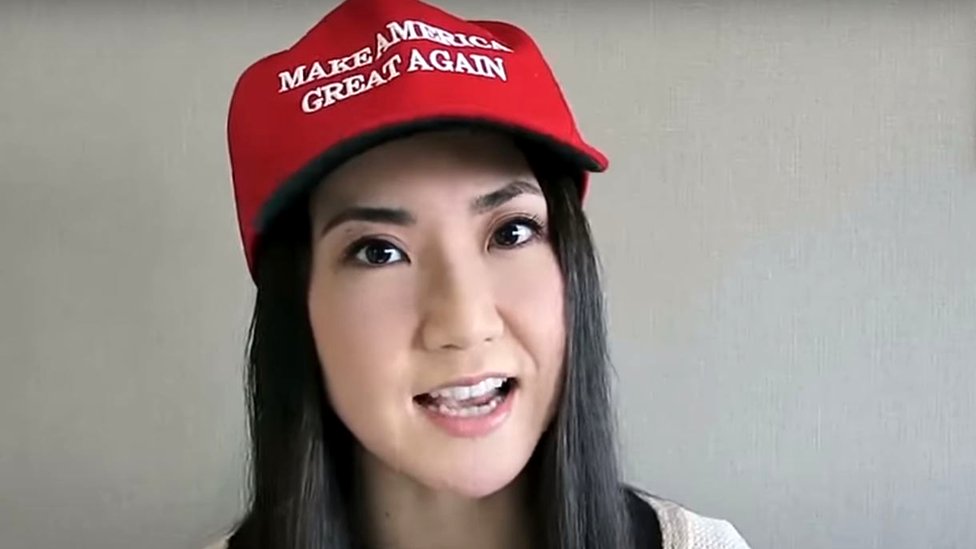 Ms Ishii sees Japan in a quasi-alliance with other Asian nations and territories who would look to the US for support against Beijing.
Unlike some of their Asian neighbours, many hope Mr Biden, who is seen as someone who will engage with his allies in a way that Mr Trump did not, will re-enter the Trans-Pacific Partnership process and engage more closely with Tokyo, both economically and militarily.
Courtesy: BBC:  https://www.bbc.com/news/world-asia-54097609