Recent
Country Profile: Moldova-
A Democracy Facing the Giant of a Dictatorship
March 30-
As part of our commitment to democracy/republicanism, liberty and autonomy of the individuals and the nations, we highlight the success stories of national liberaton from dictatorships and imperialism. Moldova is chosen this time, for its brave support for Ukraine in the face of the formidable giant of the Russian empire led by insane dictator Vladimir Putin who seems to be hellbengt on conquering the much smaller neighbors which it once crushed under communist oppression. – Editor
Yesterdaya only, Moldovan Foreign Minsister Nicolae "Nicu" Popescu told DW that "by defending itself, Ukraine is defending us!"
"Moldova is in a very difficult region at a very difficult time. Bomb hoaxes, cyberattacks, and hybrid warfare have been unleashed against the country since Russia´s war began in Ukraine."
Bomb hoaxes, cyberattacks, and hybrid warfare have been unleashed against the country since Russia´s war began in Ukraine. The small former Soviet republic´s pro-European government has reportedly been the target of Kremlin's destabilization attempts in recent months. But Popescu says not even pro-Moscow political parties want "Russian tanks to approach our border" or to live in a dictatorship or war zone.
Sandwiched between Romania and Ukraine, Moldova emerged as an independent republic following the collapse of the Soviet Union in 1991.
 is one of the poorest countries in Europe, with its economy relying heavily on agriculture. Two-thirds of Moldovans are of Romanian descent, and the two countries share a common cultural heritage.
The industrialised territory to the east of the Dniester, generally known as Transnistria or the Dniester region, was formally an autonomous area within Ukraine before 1940, when the Soviet Union combined it with Bessarabia to form the Moldavian Soviet Socialist Republic.
This area is mainly inhabited by Russian- and Ukrainian-speakers. As people there became increasingly alarmed at the prospect of closer ties with Romania in the tumultuous twilight years of the Soviet Union, Transnistria unilaterally declared independence from Moldova in 1990.
Since Russia's invasion of Ukraine in 2022, Moldova's pro-Western and pro-Russian factions have become increasingly divided.
REPUBLIC OF MOLDOVA: FACTS
Capital: Chisinau
Area: 33,851 sq km
Population: 2.6 million
Languages: Romanian, also Bulgarian, Gagauz, Russian, Ukrainian
Life expectancy: 67 years (men) 76 years (women)
LEADERS
President since November 2020. The former prime minister thwarted pro-Russian President Igor Dodon's attempt to win re-election.
A pro-European who failed to unseat Mr Dodon in 2016, Ms Sandu briefly headed a government in 2019, but it fell after dispute over the appointment of a prosecutor-general.
Prime Minister Dorin Recean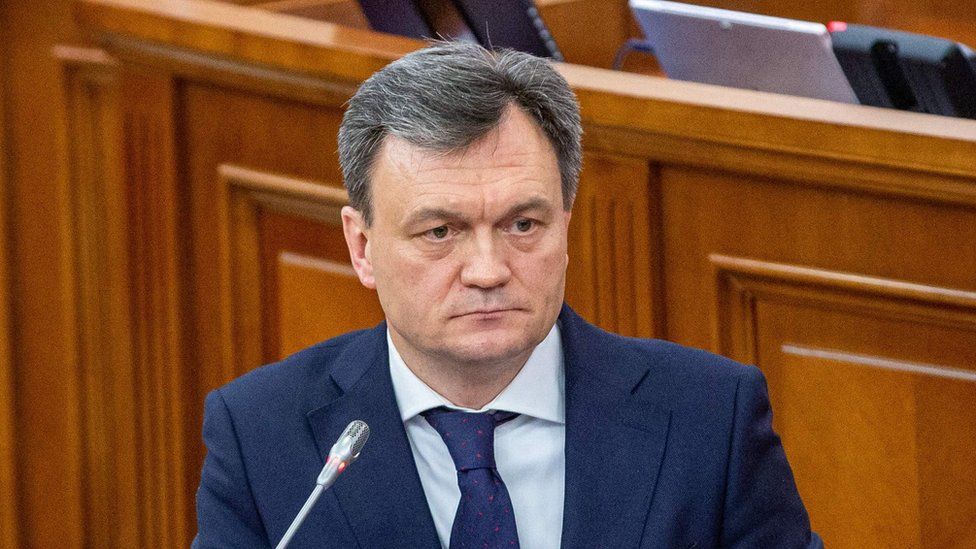 Dorin Recean became prime minster after the resignation of Natalia Gavrilita in February 2023, having headed the government since the 2021 parliamentary election when the pro-European Party of Action and Solidarity (PAS) ousted a pro-Russian coalition.
Speaking to journalists shortly after his nomination as prime minster, Recean named his three top priorities. "The first is discipline in government departments which must serve citizens and businesses. There is resistance to this, but we will overcome it.
"The second is breathing new life in the economy as soon as possible. This means finding more resources for investment in small and medium-size companies for them to create jobs, pay higher wages and work for our prosperity.
"The third is peace and prosperity. We must realise that we are facing the gravest threats and challenges since WW2. We must strengthen the security sector for everyone to feel safe."
The government has made it easier for journalists to access to official information, contributing to Moldova's rise in the Reporters Without Borders media freedom ranking.
Since the Russian invasion of Ukraine in February 2022, parliament has effectively banned rebroadcasts of Russian TV news and political shows, and has set out punishments for supposed fake news.
Political battles between pro-Russia and pro-West camps are played out in the media, which is absent in dictatorships like Russia and Belarus.
Brief Political History
14-15th Centuries – Principality of Moldova stretches roughly between Carpathian mountains and Dniester river.
16th – early 19th Century – Moldovan territory disputed by several powers with the Ottoman Empire and Russia as the main rivals.
1812 – Treaty of Bucharest grants Russia control of eastern Moldova or Bessarabia, the area between the River Prut and the west bank of the Dniester. The Ottoman Empire gains control of western Moldova.
1878 – Ottomans recognise independence of Romanian state including western Moldova.
1918 – Following the Bolshevik revolution in Russia, Bessarabia declares independence. Its parliament calls for union with Romania.
1920 – Treaty of Paris recognises union of Bessarabia with Romania. The Bolsheviks do not.
1924 – Moldovan Autonomous Soviet Socialist Republic established east of the Dniester River within Ukraine.
1940 – Russia annexes Bessarabia from Romania, and combines it with most of the Moldovan Autonomous Soviet Socialist Republic to form Moldavian Soviet Socialist Republic.
1941-1945 – Romania re-establishes control after its ally Nazi Germany invades the Soviet Union until the end of World War Two, when the Soviet Union regains control.
Late 1980s – Resurgence of Moldovan nationalism in the wake of the Gorbachev reforms in the Soviet Union.
Courtesy:DW News: https://www.youtube.com/watch?v=GSkWkBwwwns
BBC; https://www.bbc.com/news/world-europe-17601580